WOW!
Now that I got that out of the way, let me try and tackle this historical firing of a Director of the Federal Bureau Of Investigation, that was actually in charge of an active investigation of members of the president's administration that fired him.
The president has the absolute right to fire the Director of the FBI, for cause. The problem in this case is both one of optics as well as extraordinarily suspicious timing. James Comey has alternatively drawn the wrath of both political parties for some of his actions as Director, particularly related to the Bureau's investigation into Hilary Clinton and her use of non-secure email servers and possible national security breaches that may have occurred related to the emails as well as any possible subsequent by Clinton and/or her staff.
When Comey found that Clinton had acted improperly related to her emails while Secretary of State, but failed to prosecute her, the Republicans were furious with Comey. When in October of 2016, just 12 days prior to the presidential election, Comey notified the Senate in writing that the investigation into Clinton was reopened, because of potential emails found on the computer of her chief of staff's husband, Democrats were furious at the timing. Several days later, Comey said that there were no additional new findings, but the damage had been done. Hilary Clinton has subsequently declared that the timing of Comey's letter played a significant role in her election day defeat. Needless to say Republicans, championed by eventual winner, Donald Trump, commended Comey's courage at re-opening the investigation.
That decision by Comey is at the heart of the cause used to justify his firing, and that is where Trump and his administration have very serious issues with both the optics of the timing and justification itself. Trump, Attorney General Jeff Sessions, and others in Trump's administration have repeatedly either praised Comey or at least expressed confidence in Comey over the past 4 mounts including up to last week.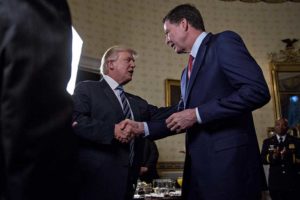 Trump used US Deputy Attorney General Rod Rosenstein's decision that Comey's firing needed to take place because of the lost confidence on the Bureau related to his mishandling of the Clinton email investigation, does not hold weight for several reasons. Despite the fact that Rosenstein was overwhelmingly sworn into the position on a bi-partisan level (94-6) replacing the fired Sayy Yates, remember his swearing in only took place on April 26, 2017. The White House used Rosenstein's initiative in part because of the overwhelming support he received and because his boss US Attorney General Jeff Sessions is supposed to have recused himself from anything related to the investigations on the Trump administration and Russia, which of course Comey was heading.  So while Rosenstein may have very well come to his conclusion on his own, his new appointment, coupled with the Trump administration's consistent acknowledgment of faith in Comey, make the issue of timing related to the Department of Justice investigation into possible collusion by members of Trump's administration and Russia.
Let's look at the timing of Rosenstein's input as well. Unbeknownst to many, Comey's actions were already under investigation by a Special Council. Those findings were not yet complete, and the result of them, if they showed Comey acted incorrectly, would have been the proper cause to justify Comey's firing. The findings of that Special Council were not expect to be concluded until the end of 2017. So why fire Comey now, after publicly acknowledging your confidence in him for months through last week, and then fire him citing the lack of confidence? How does a president fire a DOJ official, who is heading the investigation into members of his own administration and then appoint his replacement without appearing to be obstructing justice? The simple answer is you cannot.
It has been reported that very recently the FBI served subpoenas on people surrounding and related to former National Security Advisor Michael Flynn. If true, this absolutely dismisses Trump's latest tweets that and letter to Comey related to the firing that Comes and the FBI had on 3 occasions cleared Trump and his administration of any wrongdoing related to Russia.
This is a seismic moment in American political history. Republicans and Democratic alike need to all make sure that they are on the right side of preserving the checks and balances that are supposed to be the hallmark of our democracy. Comey may very well have deserved to be fired… but the timing, related to his leading the investigation of those in the Trump administration and Russia, show that there was no justification for the firing at this present time. Oh and did I mention that the firing came on the eve of the first meeting between Trump and a Russia's head of Foreign Affairs… Bad optics.
#America, #politics, #badoptics, #optics, #Russia, #United States, #Trump, #USpresident, #DonaldTrump, #JeffSessions, #USAttorneyGeneral, #FBI, #DOJ, #DepartmentofJustice, #JamesComey, Republicans, Democrats