By Richard Ray:
June 16, 2017 would have marked the 46th birthday for Tupac Amaru Shakur. Instead with his untimely passing at the age of 25 in 1996, we celebrate the day with a premier of a bio pic titled "All Eyez On Me." I am sure I will see the movie, both as a show of support for the big budget film ($60 Million) for former music video director Benny Boom, as well as a general interest in a life that was interesting to say the least.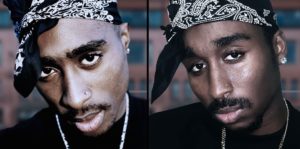 Tupac was/is one of the greatest selling music artists of all time, with approximately 75 million records sold worldwide. Many of those sales came posthumously, but the double album "All Eyez On Me" was certified five times platinum before his death and eventually went on to be certified 9 times platinum by 1998.
I hear the question either asked or just straight conjecture as to what Tupac would be like if alive today. Many project that he would be a leader within the Black Community and while none of us know the answer, I think there is at least one certainty; his would not be a muted voice during these troubling and turbulent times.
Black Panther, Afeni Shakur gave birth to Lesane Parish Crooks in 1971, a month after being acquitted of more than 150 conspiracy charges against the government and New York in the Panther 21 Trial. His father was a Black Panther as well, and Afeni renamed him Tupac Amaru, after a Peruvian Revolutionary in 1972.
While most people associate Tupac as one of the instigators of the East Coast vs. West Coast rap wars, in part due to his and Death Row Records beef with Notorious B.I.G., Puffy and Bad Boy Records, the truth is that Tupac was born in East Harlem and spent the better part of his first 15 years in New York before his mother moved to Baltimore. He went on to enroll in the Baltimore School For The Arts. A move across the country to Marin, California (approximately 5 miles from San Francisco) during his last year of high school was his initial introduction to California as home.
What was never new was the activism that he was surrounded by growing up. Beside his mother and father, most of his initial family upbringing was surrounded by the Panthers and the Black Liberation Army, in which his step-father, godmother (Assata Shakur initially imprisoned in 1977 in NJ for the death of a state trooper. She escaped in 1979 with the help of her brother and his step-father Mutulu and is currently still considered a US fugitive while living with asylum in Cuba) and godfather Elmer "Geronimo" Pratt all held high positions within the movements. You can literally say that he was raised with a combination of activism and the cultivation of arts.
This dichotomy was one of the reasons the young man was so creative. It was also a reason he was so passionate and often conscientious. His family's history with law enforcement also helps to explain his aggressive and turbulent relationship with law enforcement and authority figures.
For most of his 20's Tupac seemed to be a very conflicted and even contradictory young man. In no way am I trying to act as if I somehow knew the man or what was in his heart. Just on the surface we saw an immense talent who talked so passionately and often articulately about social injustices against People Of Color (POC) and the poor. He spoke out long before Mike Brown, about police brutality and Black Lives not Mattering to a large segment of America's populace.
Yet, due to perceived slights and feelings that he was set up and shot during an attempted robbery in the lobby of a Times Square recording studio, in which B.I.G. happened to be recording upstairs, he fed into hatred of a former brother. Hatred so consuming that, with the help of Suge Knight and Death Row literally lead to Black people 3000 plus miles apart hating each other. For a short period, East Coast-West Coast wars were like Crips vs Bloods 5.0 at least in numerical scale.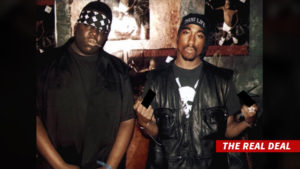 Again I did not know Tupac beyond seeing him having fun at Nells and a few other spots around the time Juice was being filmed. Yet, I see Tupac as someone with so much potential to grow who's life was cut short before he was able to channel that passion and articulateness and the platform he had from the music and movies to use to inspire more to do better. I just have to believe that the anger and beefs that he allowed to partially consume the last few years of his life would have eventually passed. Keep in mind, part of the anger also came from feeling falsely persecuted. His Death Row career actually took place while on appeal bail after serving out nine months of his conviction for a sexual assault. The day of his sentencing, where he received 1 1/2 – 4 1/2 years (meaning in New York you are minimally required to do 18 months before parole eligibility). The day of his sentencing he was in a wheel chair having been shot 5 times just days before in the aforementioned studio robbery. He always maintained his innocence, in part because of earlier consensual sexual relations with the woman.
Again all of this is pure conjecture, but he was such a talented, passionate and bright individual. I believe that he would have eventually grown up and learned from his mistakes and essentially being born into activism, I am sure that no matter where his music or acting would have taken him, he would have always been a voice to speak out against racial and social injustices. Unfortunately, and in too many cases of great potential dying far too young, we will just never know.
At least his music, and now his bio-pic will live on forever.
If you enjoyed this piece, be sure to read others within diaryofamadmind.com
#2pac, #Pac, #Tupac, #AfeniShakur, #DeathRow, #NotoriousBIG, #B.I.G., #Puffy, #BadBoy, #eastcoast, #westcoast, #AllEyezOnMe, #movies, #Rap, #hiphop, #DemetriusShipp