By Richard Ray:
Would you pay $100 on pay per view to watch comics insult each other or play the dozens? Definitely not. What if they could punch each other in the face afterwards? Probably not, but a little more intriguing at least. What if you found out that of those two insult comics, only one can actually punch (and not particularly hard at that) and the other will most likely never land a punch or slap since his specialty is choking and kicking, which are not allowed this time? Sounds like a waste of time.
This is my unprofessional take on Mayweather vs. McGregor set for August 26th in Las Vegas. This fight is a farce. It will be all hype and no substance. Of course the promoters and their surrogates (is Stephen A. Smith on AL Haymon's payroll, and if so I am curious how much the position pays?) will try and have you believe that the younger Conor McGregor has a puncher's chance. This isn't Rocky 12. Yes, in theory everyone who hits hard technically has a puncher's chance in the ring, but let's truly put this false narrative in its proper place.
Floyd Mayweather is 40 years old. His last professional fight was nearly two years ago in September of 2015, against Andre Berto. Conor McGregor will be 29 by the time the fight takes place. Though much younger, McGregor has been relatively inactive as a MMA fighter for the last several years. His last match was November of 2016. Conor McGregor has never fought an amateur or professional boxing match. His sparring, which I wrote about and showed a video in an earlier piece, shows someone that would have a hard time beating an Olympic amateur hopeful, let alone one of the greatest defensive fighters ever.
Floyd has aged and there will be a bit of ring rust, but short of temporary blindness and a mild stroke that would immobilize any muscle memory, McGregor will be hard pressed to land a clean punch at all. Four years ago Mayweather's defensive genius was on full display as he frustrated a young Canelo Alvarez into missing badly throughout the night. Canelo the darling of boxing, who was undefeated at the time with a long and distinguished amateur career, could not hit Floyd cleanly. The additional years and layoff would be significant if Mayweather were to fight a active professional like Canelo again today, but against a total boxing novice, Floyd is at more risk tripping walking into the ring then he is os getting cleanly hit once the bell sounds.
I am sure I will right about this farce a few more times before August 26th. I am incredulous that the public is talking about this fight instead of the genius that is Andre Ward in a boxing ring. Yet, I will tone my rhetoric down only slightly, because no one is putting a gun to anyone's head and forcing them to pay exorbitant amounts to see the fight in person or via pay per view. I am always on team "don't knock someone's hustle, if it isn't hurting someone else."
No one can talk any mess after this fight is over and proves to be the unanimous dud that all boxing experts are predicting. You have been warned. That said, I congratulate both participants in advance for their hype skills. A nine figure payday (over $100 Million) awaits each and as surely one of Floyd's last fights, I cannot be mad that he and McGregor have positioned their brands to take advantage of people's appetite to participate in pop cultural events that lack substance.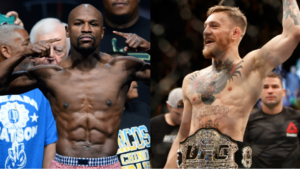 The 24/7 all access shows leading up to the fight should be infinitely more interesting than the bout itself. Hopefully the trash talking at least lives up to the hype.
If you enjoyed this, read others within diaryofamadmind.com
#Mayweather, #McGregor, #ConorMcGregor, #FloydMayweather, #MoneyWeather, #MMA, #Boxing, #CaneloAlvarez, #LasVegas, #hype, #payperview, #farce