By Richard Ray:
If you are a fan of, on the block, hood, humor, then you probably already know about the Bodega Boys, Desus & Mero. If you don't then allow me to introduce the two Bronx comedians with Jamaican and Dominican backgrounds who now have a television show on Viceland TV. Desus Nice and THE KID MERO both started out with a podcast, called the Bodega Boys. The Podcast still exists, premiering on Fridays and the Viceland show appears Monday-Thursday 11pm est, with multiple replays on the network throughout the day.
They do it for the culture and have remained true to their Bronx roots in their comedic tone and temperament as they tackle headline topics, with their unique perspective. In a climate where the news is heavy and dominated by Trump, they offer levity that many inner city/hip hop lovers can easily relate.
In fact they remind me of my younger days in NYC, where every block had a standup stoop comedian. The guys who were off the cuff funny, and had jokes for every occasion, no matter how inappropriate the subject matter. Keeping with a level of authenticity, the Viceland show allows cursing, so while it may not be for everyone, it has a clear appeal for those that like more risqué humor.
While their humor is very New York/hood centric, the duo are undeniably quick witted and authentic and I would suggest have a broader appeal beyond their obvious demographic. The two are clearly talented, but I just enjoying seeing two guys from around the way getting an opportunity and a platform to showcase those skills without the watered down gentrified version that so often appears once these "underground" artists are allowed a more high profile platform.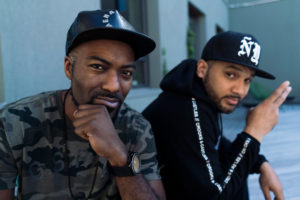 It is a nod to content need, that we can actually achieve a degree of diversity on television without selling out the authenticity of the product. I wish the two continued success and if you like humor, sprinkled with an inner city perspective, I highly recommend you tune into their Viceland show and podcast.
If you enjoyed this piece, be sure to view others within diaryofamadmind.com
#DesusandMero, #DesusNice, #THEKIDMERO, #Viceland, #podcast, #BodegaBoys