By Richard Ray:
Congratulations to Floyd "Money" Mayweather and Conor McGregor. Each woke up after their uber-hyped fight much, much, much richer men. I was extremely critical of the farce I believed the fight to be, but I never knock anyone's hustle (as long as you are not literally hurting someone else in a non-consensual way) and this was one of the greatest promoted hustles of my lifetime.
I never begrudged either man for taking the fight. I would have jumped in the ring with Mike Tyson in his prime if a nine figure payday was the bounty for my stupidity. Here both fighters made over $100 million, with Floyd expected to clear anywhere from $200-$350 million for a night's work, that posed little threat to his health and minimal risk to his reputation.
I have never thought of myself as a boxing purist, but it was the perceived lack of risk on both sides and expected non-competitiveness from McGregor never having fought a professional boxing match and Floyd, even older and inactive for the past two years, a consummate defensive pro.
The fight itself was not the overwhelming mismatch many experts expected it to be. Much is made of McGregor landing 111 punches against Mayweather through 10 rounds compared to Canelo Alvarez landing 117 through 12 and Manny Pacquiao landing only 81 through 12 as well. My hat goes off to McGregor for acquitting himself much better than expected, but with the exception of a uppercut in the 1st round, none of his punches were truly effective or packed much punch. Yet, his early activity caused Floyd, normally a defensive counter-puncher, to have to be more aggressive and offensive and his experience and conditioning proved far to great for Conor to overcome.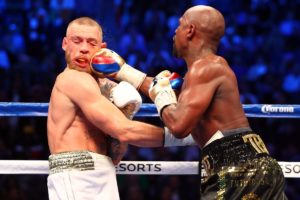 Despite the 10th round TKO McGregor was as much of a winner as Floyd was. There were no real expectations for him to win. He fought an old (40 years) fighter who was not known for having any punching power since early in his career and 25 pound weight division lighter. Other than the Victor Ortiz knockout in 2011, where the Mayweather punched a fighter with his hands down, Floyd had not recorded a knockout since 2007 against Ricky Hatton. There was little risk of McGregor getting hurt, and the age and two years of inactivity since his last fight, clearly made Floyd a shadow of the defensive stalwart he had always been in his career. McGregor is $100 million richer and world wide famous… I would say the fight was a win win proposition.
The Money Fight was not a good boxing match, but fans that voluntarily paid for the spectacle were not cheated. They got to witness the two greatest self promoters in all of sports history. Ali may have laid out the blueprint, but first Mayweather and now McGregor have perfected the art of the hype. In the end no matter where you sided on the divisiveness (and racial overtones) that were featured in the fight's promotion, you have to respect the two for their ability to manufacture and sell something that people were clearly willing to buy. The American dream at its best.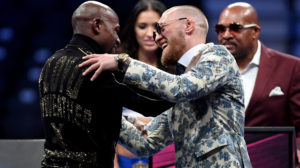 If you enjoyed this piece, be sure to catch others within diaryofamadmind.com
#FloydMayweather, #MoneyMayweather, #Mayweather, #ConorMcGregor, #McGregor, #Themoneyfight, #PPV, #Payperview, #boxing, #MMA