By Richard Ray:
Dana White and Vince McMahon have been in furious negotiations to bring the ultimate mega-fight spectacle. Forgot Mayweather vs. McGregor… Kim "Rocket Man" Jong-Un, the Supreme leader of the People's Republic of Korea and Donald "Dotard" Trump aka "Trumpito", aka "Commander In Least", aka "King Tweet" have already begun the pre-fight hype tour even though the bout is still unsigned.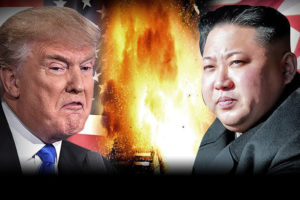 The bout would be a combination of MMA combat and wrestling. How much is real and how much would be scripted entertainment is still left for negotiations, but like the racist and sexist tones of McGregor and Mayweather's pre-fight tour, the fact that each of these "leaders" actually have access and authority over nuclear weaponry make many of us as uncomfortable as we remain entertained at the spectacle. Trump may have thrown the opening personal insults with Tweets calling Jong-Un among other things, Rocket Man. But Jong-Un's return calling Trump a Dotard surprised many with its sting and use of English to throw such an effective insult. Most Americans had to look the definition up or be told that Dotard was; an old person especially one who has become weak or senile.
The weigh-in for this event could be sold for pay per view by itself. Who would miss the two overweight middle aged bodied (though Jong-Un is only actually 33) and geriatric combatants stripped down to speedos? The normal visual disgust that would ensue would be aided by the full display of their masculine inadequacies to somehow easily explain the overcompensation, egocentricity and insatiable thirst for power.
Of course an actual bout between these two would be a joke. Despite the age difference no one could expect much more than a glorified slap boxing match that would last a minute or two before both passed out in exhaustion. So for now, we all just hope the insults stay just that. The two are jokes. However, both have access and authority to nuclear weaponry and clearly there is nothing funny about that. The US vs. North Korea is a total mismatch and the end result of any conflict will have far overreaching effects beyond damages that we would inflict upon North Korea and its citizens. Insults are childish and entertaining to outsiders, but any escalation beyond the current back and forth would have long lasting effects on the United States standing in the International community.
I joke about the conflict, but of course failed diplomacy has the potential to have real consequences. Hopefully the absurdity of the personal insults will remain just words. Unfortunately we are talking about two unhinged megalomaniacs who are so unpredictable that all of us are left uneasily laughing at a spectacle that has real potential for catastrophe.
We know that if enough money was on the line Trump would go for the pay per view bout… now if only Dennis Rodman could convince Kim Jong-Un of the same.
Be sure to read others within diaryofamadmind.com
#Trump, #DonaldTrump, #KimJongUn, #McGregor, #Mayweather, #MMA, #Wrestling, #payperview, #nuclearweapons, #NorthKorea, #nuclearwar