By Richard Ray:
So I just want to make sure I have this correct. Many of you are out there burning player's jerseys and season tickets as well as vowing to boycott NFL games. Those are the calm ones because some of your brethren have taken to vile racist name calling and death threats toward's players who are silently and non-violently protesting during the playing of the national anthem at professional sporting venues (most notably pro football).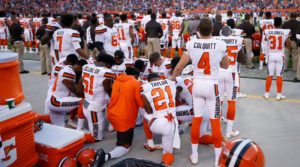 The gist of your anger is supposedly because these ingrate millionaires are disrespecting the flag, the anthem, the military and veterans and America overall. Your anger is so blinding, over the disrespect to America, as told by your clueless leader Donald Trump, that death to infidels is the only reasonable and rationale solution that if they are not going to go back to Africa or at least be fired on the spot.
Your anger over the disrespect to the flag, veterans and America is so blinding that you do not actually care that not one player including the devil Kaepernick himself have ever said that they were protesting the flag, veterans, or the military. I am not sure that any of you actually know why the players are protesting, except to defy Trump, and more importantly I do not think that any of you actually really care.
I say this because not one of you who so easily, loudly and definitively vocalize your displeasure with the players has ever so much as hummed your disapproval at the real issues that Kaepernick and the original protesters knelt during the anthem to bring attention towards. None of you speak out and against police brutality and killings of unarmed civilians. None of you speak out against social injustices that People Of Color face within the United States.
You not only do not speak out against or express empathy towards these injustices, but you let peaceful, non-violent protests of these offenses drive you to reprehensible hate speech and actions under the guise of your patriotism. You say your hate/anger is towards the players disrespect of the anthem and flag (despite repeated statements from the players of their respect for the flag, the military and America). Yet, you still booed loudly at the Dallas Cowboys who knelt collectively prior to the playing of the anthem, but all stood during the anthem. That disapproval showed that your hate and dissent is not against the anthem protest but any protest that the players may engage in to effectively bring awareness to social injustice, police shootings and inequality… I get it now… no matter how or when they protest you just have no interest in empathizing or showing support to their intended cause, when in effect you actually just really want to figuratively, and in far too many cases literally, kill the messenger for his audacity to complain in the first place.
Be sure to read others within diaryofamadmind.com
#NFL, #protests, #Trump, #DonaldTrump, #racism, #socialjustice, #socialinjustice, #anthemprotests, #Kaepernick, #ColinKaepernick