By Richard Ray:
The 2017-18 NBA season is upon us and after one of the busiest offseasons in League history there are boundless storylines to keep even the most casual fan fixated throughout the course of the long season. Many people cynically view the 82 game regular season as meaningless and far too long. Most people see the predicted Finals of a fourth straight match between the Golden State Warriors and the Cleveland Cavaliers as a forgone conclusion with a Warriors victory as even more definitive.
However as opening night has already proven, nothing in the NBA is definitive until an actual champion has been crowned in June.
There were 7 present NBA All Stars that switched teams this year. Paul George, Gordon Hayward, Kyrie Irving, Isaiah Thomas, Jimmy Butler, Paul Millsap and Demarcus Cousins (technically traded right after the all star game). This list does not include the movement of perennial all stars Chris Paul, Carmelo Anthony, Dwight Howard, Dwayne Wade and former league MVP Derrick Rose.
The NBA offseason was like a Tele-nova, old school soap opera at its best. All of the storylines from Kyrie forcing a divorce from LeBron and joining Gordon Hayward in Boston and the Cavaliers to Carmelo joining Russell Westbrook and Paul George in OKC to Kevin Durant mercilessly trolling all his haters over the summer to Chris Paul going James Harden in Houston to whether Isaiah Thomas can come back and make a difference in Cleveland where Dwayne Wade rejoined LeBron and Derrick Rose to Lonzo Ball and the young LA Lakers along with the Process in Philadelphia with Joel Embid and the last 2 number 1 draft picks Ben Simmons and Markelle Fultz.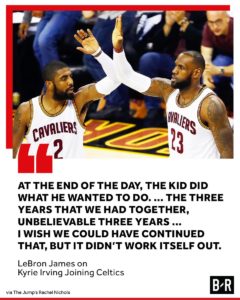 As much as so many think of the NBA as anti-climatic with a Golden State Warriors and Cavaliers 4 peat in the Finals, the potential season ending injury that Gordon Hayward experienced just five minutes into his Celtic career show that absolutely nothing is certain in the NBA. Injuries, even like the one Draymond Green experienced in the game that helped lead to a season opening loss to the Houston Rockets is proof of how fragile the actual balance is and the dependency of full health rosters to make everyone's predictions and expectations meaningful.
The NBA regular season is long, but the games really do matter. With so much player movement, no matter what teams look like on paper, they have to play together and establish cohesiveness which is more important in basketball perhaps than any other sport. So as much as like everyone else I predict that Cleveland and Golden State will once again meet in the Finals, I strongly hedge that prediction with the caveat that any and all NBA predictions are dependent on the healthy knees and ankles of the gems superstars.
In the meantime I will enjoy the NBA regular season perhaps more than usual, because with so much player movement and storylines, even some bad teams like the Lakers and 76ers will be interesting to watch as we tune in to see the develop of their young players. The state of the present dysfunction of my NY Knicks is still uncertain, but as a true die hard I will still tune in for better or worse… because true Knick fans are masochists at heart.
Be sure to read others within diaryofamadmind.com
#LebronJames, #KevinDurant, #StephCurry, #JamesHarden, #NBA, #RussellWestbrook, #ChrisPaul, #KyrieIrving, #GordonHayward, #GoldenStateWarriors, #ClevelandCavaliers, #NYKnicks, #LALakers, #LonzoBall, #CarmeloAnthony, #BostonCeltics