By Richard Ray:
I have said for some time now that Sean Jean Combs aka "Puffy" aka "Puff Daddy" aka "P. Diddy" aka "Diddy" aka "Brother Love" is the greatest self promoter of our lifetime. So when Puff makes a video to change his name to Brother Love and a few days later says he was only joking (perhaps it was because the name was already taken by a WWE personality or perhaps it was not as well received as hoped)… well how can you ever be mad at the self promotional efforts of a man who still knows how to keep the people guessing and talking and most importantly… interested.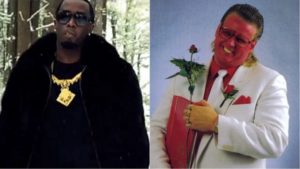 Puff of course started out in A & R in the music business and quickly learned the art and importance of marketing and promotion.  Urban labels like Uptown Records and his eventual label Bad Boy Records were often treated like step children in the music business, given smaller budgets and less attention by the major labels and distribution companies. However Puff, the avowed son of a hustler, used a lot of creativity, ingenuity and hard work to help promote his artists and labels to prominence and success.
Yet, unlike most executives who remain behind the scenes to a degree, Puff not only stayed in the forefront of his company's promotional efforts he eventually took to the mic and the stage and videos to become as popular if not more than any other artists in the genre on his labels or otherwise.
Whatever you might think about Puff as an Artist, producer, executive, Philanthropist, you know who he is… and if you do not you can be assured your kids do. He has made himself relevant across several fields and his greatest conquest seems to have taken all the branding and promotion to striking a creative and lucrative deal with a previously unknown vodka to a marketing partnership that has cemented his legacy and financial solvency from businesses (the Music and Fashion -Sean Jean) that are otherwise mercurial and inconsistent.
From my understanding Puff created a deal with Ciroc to become not just a spokesman but a partner in profits. While I do not specifically know the specifics of his deal with Diageo, owner of Ciroc, it is not an ownership deal but one that splits profits from sales during the terms of the agreement. When Diddy began promoting Ciroc it was struggling to sell 40,000 cases a year and now has well over 3 million sold cases since 2008. While Puff may have made a killing selling liquor and most importantly further building his personal brand globally, he took that relationship and money and made a 50-50 ownership deal with Diageo in the purchase of luxury Tequila brand Deleon in 2014.
Puff continues to grow his business in large part because he has perfected and never neglected the building of his personal brand. If you have watched any of his marketing campaigns or Revolt TV, him promoting his parties or a Ciroc commercial, the lines are indeed blurred in separating his enthusiastic and infectious style of promotion that always puts Puff at the forefront along with any product.
As an introverted entrepreneur, it is a marvel to watch someone so talented at self-promotion. "Can't Stop Wont Stop" is a 20 plus year old tag line he created that is easily identifiable with anyone on their grind and trying to get ahead. So if Puff wants to be called Brother Love, believe me I know there is an inspirational book or seminar coming. I don't knock the hustle or the name changes, just take occasional notes and congratulate as i continue on in my own grind.
Be sure to read others within diaryofamadmind.com
#SeanCombs, #SeanJean, #Puffy, #PuffDaddy, #PDiddy, #Diddy, #BrotherLove, #BadBoy, #Ciroc, #RevoltTV, #Deleon