By Richard Ray:
For the first time in many years I watched a significant portion of the Grammy broadcast. I had been quietly boycotting for years due to the perceived intentional lack of inclusiveness of music by People Of Color (POC) in both the awards given and what was actually televised by the Recording Industry Association of America.
The show is still lacking, as far as I am concerned in overall entertainment value, but I do see where they are at least making surface attempts to be more inclusive in representing the diversity that truly makes music so universal. That said, the RIAA still has a long way to go.
It is important to point out that while the Grammy's may be one of the most internationally recognized award shows in the world (perhaps after the Oscars), it is still relatively a United States award ceremony. There are other European music Award shows, separate Latin Grammys, Country Music awards, BET, Soul Train and other various genre and demographic specific award shows, but the Grammy's, being the oldest still presently carry the highest overall prestige.
The 2018 broadcast highlighted both the attempts at greater diversity as well as how misguided and lacking those efforts still are. The show opened with a socio-political performance by hip artist, Kendrick Lamar. However, just in case anyone turn the channel, they softened the blow by having U2's Bono and The Edge walk across the stage during his performance for 30 seconds. It was gratuitous at best and clearly a signal to others potentially offset by Kendrick's performance and theme that they were not forgotten. For added clarity comedian Dave Chapelle was brought in to add levity to Kendrick's performance so no one could mistake it for a Black Lives Matter concert.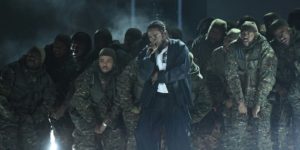 There were other attempts like pairing Reggae artist Shaggy with Rock legend Sting, along with the performances of R & B artist Sza, Childish Gambino (Donald Glover), Cardi B performing with Bruno Mars and Rhianna, DJ Khalid and Bryson Tiller. Notably, the Grammy's included a Spanish only version of the wildly popular "Despacito" by Luis Fonsi and Daddy Yankee. The performance was groundbreaking on many levels, with Spanish language only artists highlighting both the music's universal appeal not just internationally but domestically.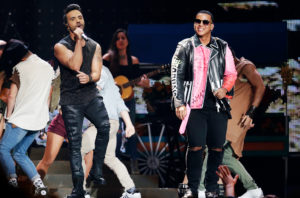 I see the Grammy's making the efforts to be more inclusive, but still missing the mark. They are trying to appeal to a broader audience and hit all segments of the population while not focusing more on urban or hispanic culture. Yet, where were the gospel performances? A genre as specific as country music, and vastly popular as well. Younger alternative rock audiences could be asking the same question.
Sometimes when you are trying to appease too many you end up pleasing no one. It's an awards show so there are winners and losers. Some are mad that JAY-Z's, minority empowering Album 4.4.4 didn't win. He was honored the previous day in an un-televised event, but for people looking for more diversity and conspiracy's it isn't difficult to consider his losses and intentional snubbing of political commentary aimed at minorities. Whatever your take on the night may have been, it is important to give it some perspective. The Grammy's still have a long way to go to be reflectively inclusive of the contributions that POC and urban and Latin music are spearheading within society and the culture. But, it is still important to recognize that steps have been made from how poorly they used to represent.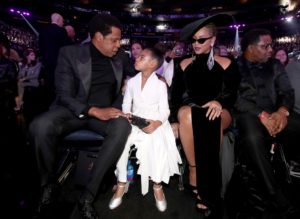 #Grammys, #LatinGrammys, #LuisFonsi, #DaddyYankee, #diversity, #BrunoMars, #CardiB, #hiphop, #Latinmusic, #gospel, #countrymusic