This just in: Jason Whitlock has signed on to be the national spokesman for the restaurant chain, Bottled Blonde. Though the national spokesman, his primary duties will be in promoting the establishment's, based out of Scottsdale, Arizona, dress code:
"Bottled Blonde will maintain a classy atmosphere and reserves the right to refuse anyone," the notice begins. "A high standard of dress is required at all times. Dress code is on a case-by-case basis, and is at the sole discretion of the door staff. In all instances, the door staff's decision is final. If denied entry, changing your appearance will not change the decision."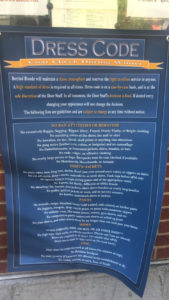 I joke about Jason "Uncle Ruckus"  Whitlock aka Stephen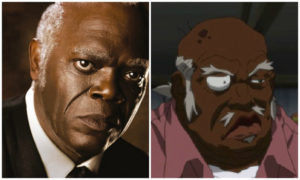 signing up to endorse and serve as the brand ambassador for Bottled Blonde, but could there really be a better surrogate for White privilege and denouncer of Blacks that have the nerve to question racism in this day and age. Who could better make a case for Bottled Blonde that their "Dress Code is justified, a part of their first amendment rights and in no way racist. After all their list excludes Ed Hardy, Tap Out  and other MMA brands, how can that be racist? (Never mind that when was the last time you saw someone in America wearing an Ed Hardy or Tap Out T-shirt or)
Whitlock is the perfect person to wheel out whenever White people want to say all the most disrespectful, insensitive, un-politically correct things but not want to risk losing sponsors… He is a Fox Sports staple to denounce Black angst in the same way that Fox News used to use Stacey Dash before she was unceremoniously dumped by the network. When LeBron James' Los Angeles home was spray painted with the word N***er, Fox wheeled out (and no pun intended toward his potential inability to walk due to his large frame) Whitlock to vehemently denounce LeBron for having any type of feelings at having been targeted by racism, because essentially he was rich.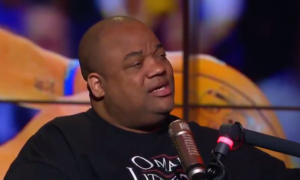 There is no doubt that poor people suffer exponentially worse in every way than the wealthy. However, that fact by itself in no way negates the effects of racism, sexism and other true social injustices inflicted upon people regardless of their socioeconomic levels.  This is far from Whitlock's first bite at this particular apple, and his record of disdain for Black activism is long, making him the perfect spokesperson to somehow justify the otherwise obvious racism and even sexism in Bottled Blonde's prohibitive dress code.
I can see Whitlock now pointing out how Black people are so sensitive… how they need to stop taking things personally because all businesses have the right to enforce any type of dress or codes of conducts that they want. True, they do, but this one, despite the Ed hardy, flannel shirt and Tap Out references, made sure they comprehensively prohibited every piece of clothing, and accessory an urban male has ever worn. I mean are they actually prohibiting Jordans in the city that Mike built, but Vans are okay?
Just in case the picture of the sign that is displayed prominently right outside of the restaurant is hard to see, here is a comprehensive list of their exclusions:(any incorrect spelling is their own)
* No excessively baggie, sagging, ripped, dirty, frayed, overly flashy, or bright clothing.
* No matching colors of the shoes, hat and/or shirt
* No hawaiian, tie dye, floral, skull prints or anything else obnoxious
* No Embellishments, or Statement jackets, shirts, beanies, or hats
* No rude, vulgar, or offensive clothing
* No overly large purses or bags. Backpacks must be coat checked if available
* No plain white tees, long tees, denim, flanel (not even around one's waist), or zippers on shirts
* No cut off shirts, deep v-necks, undershirts, or mesh shirts. Tank tops before 6PM only
* No shearling/fur, leather, jean jackets, short sleeve hoodies or overly long hoodies
* No overalls, cargo, bleached/stone/acid washed, odd colored, or leather pants
* No jean shorts, and other shorts must be no longer than one inch past your knees
* No high tops, high socks, or athletic sneakers (Chucks and Vans are allowed)
* No male jewelry (Chains are not allowed in the establishment)
*WHITES ONLY
Ok, I added that last one in but how far away were they really, remember part of the opening statement on the sign: "Dress code is on a case-by-case basis, and is at the sole discretion of the door staff. In all instances, the door staff's decision is final. If denied entry, changing your appearance will not change the decision."
So if you comply with the dress code but still are the same person, they will still deny you… sounds like its not really about the dress code at all. Let's call a spade a spade and racists and sexists… racists and sexists.
Let's stop defending this behavior… let's stop justifying bad behavior. For the most part I think we are way too politically correct and sensitive as a society, but that is not a justification for emboldening racist behavior. Racists and their surrogates (regardless of race or color) need to be ostracized in America. We are not exactly the most cohesive melting pot, but the ingredients are already in this stew, and no matter how much some may wish otherwise, they can never be taken out. You may not personally love when all things are mixed together… but respect the fact that other people do #message #onelove.
If you enjoyed this piece, be sure to read others within diaryofamadmind.com
#bottledblonde, #BottledBlondeChicago, #dresscode, #LeBron, #LeBronJames, #JasonWhitlock, #Donkeyoftheday, #racism,