By Richard Ray:
Inspiration comes in all forms.
I am not a big college football fan, but games dominate much of television the Friday and Saturday after Thanksgiving. I was in the gym and a television was on helping me pass the time on a stationary bike. Going no where in a hurry is not my favorite past time, but as part of my commitment to health and longevity, sometimes I engage in workouts that are less then enjoyable.
Trust, my commitment to my health and well being far out weighs any moments of possible complaints for the work that needs to be put in, but that point was further emphasized by images I was seeing on the screen. Starting at linebacker for 15th ranked and undefeated University of Central Florida (UCF) was an amputee playing without a  left hand.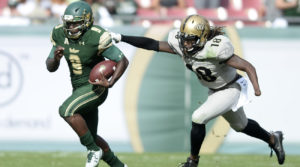 Shaquem Griffin was born with Amniotic Band Syndrome, a rare birth defect (1 of 1,200) that kept his hand from fully developing. It caused his fingers to hurt intensely whenever he touched anything.  At the age of four the pain was so intense he attempted to cut off his fingers with a kitchen knife. His mother immediately took him to the hospital and his left hand was amputated. Within days of the surgery the four year old, was back outside playing football with his twin brother Shaquill.
The brothers excelled at football and eventually Shaquill was a high profile recruit who refused to look at schools that did not consider his brother as well. Upon arriving at UCF Shaquill played right away and Shaquem was redshirted a year and spent two seasons on the scout team. Instead of getting down he persevered and his redshirt junior year as a full term starter he excelled, winning the American Athletic Conference defensive player of the year award over his brother, among others, who is presently playing for the Seattle Seahawks in the NFL.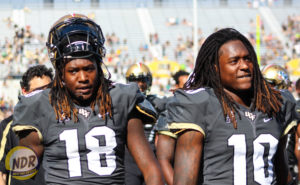 Shaquem's redshirt senior year has been no less exceptional as he seems to be the heart of his undefeated team's defense, with (realistic) goals of joining his brother in the NFL next year. Whether he achieves that dream or not, his journey is inspirational to so many. I had never heard of him prior to his team being featured on national television, but he has inspired me.
Shaquem Griffin's story is indicative of the strength of the human spirt's ability to override the many obstacles placed in front of us.  His story and journey is also a reminder to many of us about putting our own issues and obstacles into better perspective. We have the capabilities of achieving so much in life. No matter the obstacles, hard work, perseverance, determination and refusing to give up on ourselves is a recipe for success in life, and if you ever have doubt look to others like Shaquem Griffin for inspiration.
#ShaquemGriffin, #UCF, #UniversityCentralFlorida, #onehandedfootballplayer, #ShaquillGriffin, #NFL, #CollegeFootball